Calverton Topsoil Delivery
• Topsoil Delivery • Mulch Delivery • Stone Blends • Wood Chips • Excavation • Cesspools
Service In Suffolk County | Free Estimates Provided | (631) 929-5668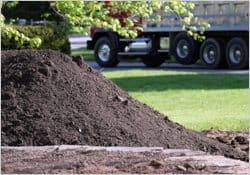 At DMT Enterprises, Inc. we have over 25 years of experience delivering topsoil, clean fill and loam. We understand that only the best quality will produce the best results. We select only the best dirt from our suppliers to ensure that your landscaping or building project will come out exactly as you expected. Whatever your need for any type of soil, we can get it for you and deliver it as well.
Topsoil
Topsoil is an important part of any homeowner's landscape. Topsoil provides a fertile area in which to grow plants in your flower beds, a nutrient-rich environment for tilling with the soil already in your garden and the perfect bottom coat for laying sod when positioning a new lawn down. It is important that the topsoil is rich in nutrients for the application that it will be used for. Our topsoil is finely screened to ensure that any stones, plant roots and other materials do not make their way into our product. Your topsoil can be used for any application you wish. Topsoil is a necessary part of any landscape. Topsoil can be easily eroded by water runoff, snow, wind and rain. Without it your plants will not last and your trees can eventually be easily uprooted.
Clean Fill
Clean fill can be anything from clay, sand or dirt. It is referred to as clean because it doesn't contain any corrosive or radioactive materials that can be harmful to the environment around it. Clean fill is requested in many projects to fill depressions on a particular landscape, or to fill-in larger land areas so that they can eventually be leveled and graded. It can also be used to create a solid base before a contractor begins a foundation for a home or building or it can be used to prevent erosion where areas of high erosion can be most susceptible. We provide clean fill in a quick and timely manner. We will deliver it wherever you would like on the property.
Loam
Loam is a soil that is composed of sand, silt, and clay. Most agricultural professionals agree that a loamy soil is best for any type of landscape application. Sand, silt and clay have varying degrees of water retention. Sand holds no water and is best for plants that do not need frequent watering or rain. Clay holds a lot of water and is best for flowering plants that require constant watering or are very used to a wet environment. Silt is right in the middle of both sand and clay. It provides a decent environment for most plants, trees or shrubs that require regular watering or periodical rain. Where sand holds no water and clay absorbs much water, along with the addition of silt, loam is the perfect solution for gardens, planting beds, and any other application where flowers, trees or shrubs would need to be planted. Whatever your loam needs, we can deliver as much as you need for your gardening or planting applications, quickly and easily.
Don't forget, DMT Enterprises, Inc. also offers Calverton mulch delivery, Calverton cesspool installation and we are the #1 Calverton excavation contractor all throughout Suffolk County, New York!